DDSL U10D PAFC Win the League
(08-11-2011)
Portmarnock AFC under 10D DDSL team win the league. Portmarnock AFC under 10D DDSL team win the league at their first attempt.
This group is from the first academy that didn't go in to competitive leagues at under 7 they spent a further two years getting coaching twice a week preparing them with a better grasp of the basics we believe. Another team from this group are playing in the NDSL C league and have performed very well even beating an A team by 7-1 in a recent fixture.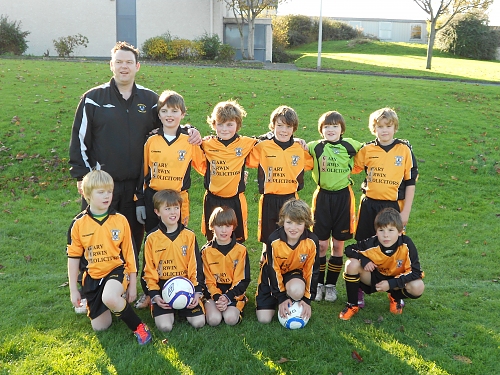 Team from left to right back row is : Brian Irwin (Manager) Ryan Gibson, Josh Philips, Joseph Molloy, Ciaran McCarthy, Jack Irwin
Front row : Billy Irwin, Matthew Campbell, Adam Campbell, Conor archer, Jamie Morris
The league was clinched in a superb game of football at Colaiste Dhulaigh last Sunday afternoon the 6th in glorious November sunshine. The match finished 2 a piece but could have been a much higher score draw as no team would have deserved to be the winners by the end. Portmarnock came out of the blocks at the start with all guns blazing and with Ryan Gibson Conor Archer being supplied by Adam Campbell and Josh Philips could have scored from a number of chances. The Malachys keeper Keenan Boyne performed heroics and after a series of 4 or 5 consecutive corners Ports couldn't get it past him. He was helped keep the ball out by brave defending from David Batty at the back for Malachy's. Both teams were trying to play the beautiful game and the standard of passing was a joy to behold, Mr Trappatoni should come and see that Ireland can produce players who like to keep it on the deck and pass their way to goal. Tommy Curley was making great dribbling runs and superb passing for Malachys in midfield. Curley was ably assisted by Conor Cullen who had a great match for the green & blacks.
Jack Irwin Jamie Morris and Matthew Campbell were resolute in their defending for Portmarnock and Malachys couldn't find a way past them until against the run of play they scored with a great finish on the 21 min mark, Ciaran McCarthy after having made a couple of superb saves was beaten by a superb strike by Malachys no7 Wayne Dennis. Dennis was a constant thorn in the side of Portmarnock's centre half Jack Irwin and was their most dangerous attacker staying far upfield waiting for delivery's from the cultured left boot of Malachys Sean Kelch who had a stormer at left full coming up to swing in some great corners. Irwin & Dennis had a great one on one physical battle and it would be hard to say who came out on top.
The second half started brightly and Billy Irwin and Joseph Molloy having come on near the end of half one were in scintillating form, Portmarnock's captain for the day Billy holding the ball up like a seasoned pro and Joseph making great diagonal runs in to the box were tearing Malachys apart. Top scorer for Portmarnock Ryan Gibson with 11 before today and who scored a hat trick against Lakelands earlier in the season finished from close range to equalise for Ports and Joey Molloy got a quick second with a great right footed finish to put Portmarnock back in the lead and looking like securing the league title.
But Malachys weren't finished with Dennis and Curley giving the Ports defence a torrid time Curley making some great Messi like runs pulling the opposition all over the place culminating with an equaliser for Malachys with 3 minutes to go. It was nip and tuck for the last 3 minutes until the referee blew for full time with joyous scenes from the Portmarnock line and satisfaction for Malachys as the only side in the group not to be beaten by the DDSL under 10 D league winners 2011.